Sarah Chiapparro, the owner of the popular Berry Hill Food Co. in downtown Oshawa, has opened a new restaurant called Mixta at the Oshawa Center. The menu focuses on South American flavors with dishes like the Fully Loaded from the Guacamole Bar. Ma
The owners of the popular Berry Hill Food Co. in downtown Oshawa are launching a new company that celebrates South American flavors.
Sarah and Jorge Chiapparro recently opened MIXTA by Berry Hill Food Co., a takeout place at the Oshawa Center that serves a menu of churros, empanadas, guacamole, salads, quesadillas, sandwiches and fresh juices.
"My husband is from Uruguay; We have been working on a concept for Latin American food for a long time, "says Sarah Chiapparro. "We wanted to do something really fun and fresh."
Opening a new restaurant during a pandemic is challenging to say the least, but Chiapparro looks forward to potentially reaching a new demographic of customers through its location in the mall.
MIXTA was briefly opened in December, but then faced lockdown – this spring is something of a relaunch.
Chiapparro describes the MIXTA menu as focusing on fresh ingredients and great flavors like the Chipotle Cubano Panini with Roast Pork, Chipotle Mustard, Bacon, Provolone Cheese, Roasted Red Pepper and Pickled Padron; and salads like the taco mixta with romaine lettuce, rocket, jicama, carrots, red onions, tomatoes, cucumber, black beans, cotija cheese, coriander, crispy tortilla hay and an avolime dressing.
Chiapparro is a big fan of the guacamole bar, where you can stack your dip with everything from cotija cheese and bacon to roasted peppers and pepitas.
On the sweeter side, there are churros – classic, dipped or in an ice cream sundae – as well as the home-baked Tres-Leche cake.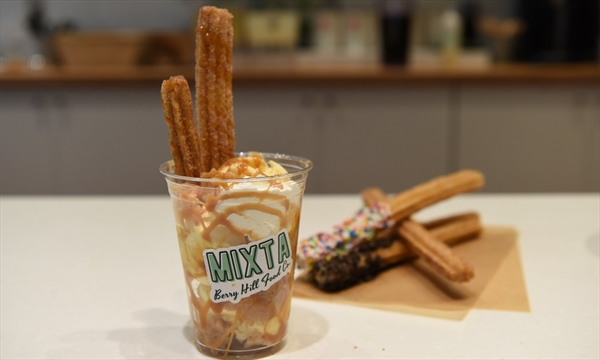 MIXTA means "mixed" in Spanish and is often used for mixed salads in Central and South America.
"It fits well because our menu is a mix of South and Central American flavors put together by an Ontario chef," says Chiapparro. "We also mix healthy and enjoyable."
We want to learn more about your favorite Durham restaurants! Old favorites, hidden treasures, new restaurants, unique food trucks. Send your delicious food to reporter Jillian Follert at [email protected]