Breadcrumb Trail links
news
Legalization
47-year-old woman charged with possession of cannabis for the purpose of selling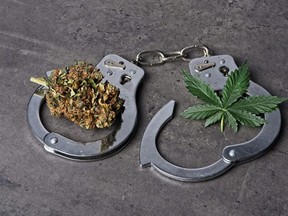 Inside the pot shop, officers found and seized cannabis, cash and other weed products said to have a combined value of more than $66,000. / Photo by Gleti / iStock / Getty Images Plus
Article content
Oshaweed, a reported unlicensed cannabis dispensary perhaps paying homage to his home in Oshawa, Ont., was busted after a police search in late July revealed a stash of cannabis and cash.
Advertisement 2
This advertisement has not been loaded yet, but your article continues below.
Article content
Members of Durham Regional Police's Central East Division Community Response Team executed the warrant at the King St. W. business on July 26 in downtown Oshawa, about an hour's drive east of Toronto. Inside, officers found and seized cannabis, cash and other weed products said to have a combined value of more than $66,000, notes a statement from police.



NY cannabis regulators shut down unlicensed businesses ahead of legal market launch




RCMP searching for two armed thieves who robbed unlicensed cannabis store




Canada needs better CBD policies to protect consumers from unlicensed products
A 47-year-old woman, said to be an employee, has been charged with possession of cannabis for the purpose of selling. She has since been released.
Advertisement 3
This advertisement has not been loaded yet, but your article continues below.
Article content
What appears to be the shop's website notes the store is open 24 hours a day. "Oshaweed has a massive selection of cannabis products excellent for both medical and recreational customers. We have something for you, no matter the level of experience you have with cannabis," the site offers.
Website spells out options for ordering
The website spells out the process for ordering: visit in person or call, noting phone number, product and quantity needed and confirm the order is placed and wait to receive an order number for pickup. "Your order will be prepared for in-store pickup and will be held for 2 hours until you arrive."
Believed to have been open for about a month, the website points out that buying two grams of a strain will get a customer the third gram free.
Stratcann reports the website list dried flower for about $5 to $15 per gram, as well as edibles, extracts, vape pens and more. The dispensary is also reported located minutes away from several licensed cannabis stores.
Advertisement 4
This advertisement has not been loaded yet, but your article continues below.
Article content
The police did not specify precisely how much cannabis or how many related products were found during the raid.
Federal law means an adult (either 18 or 19 years old, depending on the province or territory) can share up to 30 grams of weed with other adults and grow as many as four plants per residence for personal use, per Legal Line.
Additionally, a prospective owner of a cannabis retail store in Ontario must apply for and receive both a Retail Operator License (as an individual) and a Retail Store Authorization (for each retail location that person intends to open), notes information from the Alcohol and Gaming Commission of Ontario.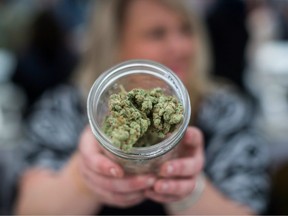 Cannabis retail stores must be authorized to sell the substance. / Photo by THE CANADIAN PRESS/Darryl Dyck
The Cannabis Act makes clear that, unless authorized by the act, "it is prohibited to sell cannabis, or any substance represented or held out to be cannabis" to any person or any organization. The maximum penalty under the Cannabis Act for breaches the requirement is imprisonment for up to 14 years.
Advertisement 5
This advertisement has not been loaded yet, but your article continues below.
Article content
It's not the first time that a cannabis-inspired pot shop name has attracted the attention of police.
Other unlicensed weed shops have been raided in recent years
In late January 2021, the Nova Scotia RCMP arrested two men in connection to an unlicensed online cannabis store after seizing what was characterized as "a significant quantity" of cannabis products. In a news release, RCMP stated they have seized "a significant quantity" of cannabis products and an investigation into the illicit business is ongoing.
A few months later, in the spring of 2021, four people from in and around Toronto were charged after local police raided an unlicensed dispensary in North York and discovered about 71 kilograms of cannabis edibles and various other drugs.
Advertisement 6
This advertisement has not been loaded yet, but your article continues below.
Article content
And in 2019, several unlicensed cannabis dispensaries in Toronto opened for business in defiance of the city's efforts to keep them shuttered. One of those shops, Weedora, claimed to have distributed $200,000 in $100 vouchers for free cannabis to call attention to the difficulties he and other cannabis small businesses are facing under regulations.
One complaint was that Ontario should allow delivery services, which it green-lit in early 2022. Per an AGCO statement, the agency announced in March 2022 that the provincial government "has established new rules to enable cannabis retailers to offer delivery and curbside pickup services on a permanent basis."
Among other things, delivery orders must be placed with a specific store location; orders must originate and be fulfilled from that same store with products that are stored on-premises and cannabis cannot be removed from the store for delivery unless an order has been received.
Subscribe to Weekend Dispensary, a weekly newsletter from The GrowthOp.
Share this article on your social network
Advertisement 1
This advertisement has not been loaded yet, but your article continues below.
By clicking on the sign up button you consent to receive the above newsletter from Postmedia Network Inc. You may unsubscribe any time by clicking on the unsubscribe link at the bottom of our emails. Postmedia Network Inc | 365 Bloor Street East, Toronto, Ontario, M4W 3L4 | 416-383-2300
Thanks for signing up!
Comments
Postmedia is committed to maintaining a lively but civil forum for discussion and encouraging all readers to share their views on our articles. Comments may take up to an hour for moderation before appearing on the site. We ask you to keep your comments relevant and respectful. We have enabled email notifications—you will now receive an email if you receive a reply to your comment, there is an update to a comment thread you follow or if a user you follow comments. Visit our Community Guidelines for more information and details on how to adjust your email settings.